Tag Archives:
marine photography
Since posting the monochrome shot of Linda Paganelli Freediving Ras Mohammed I've had countless requests to post the original shot (in colour)…
The shot was 100% un-cropped and even has some hidden details like a Blue Spotted Sting Ray at the bottom left of the shot (a resident of this cave), being able to clearly read the branding on Linda's suit and fins as well as great detail in the two Russian snorkellers on the surface…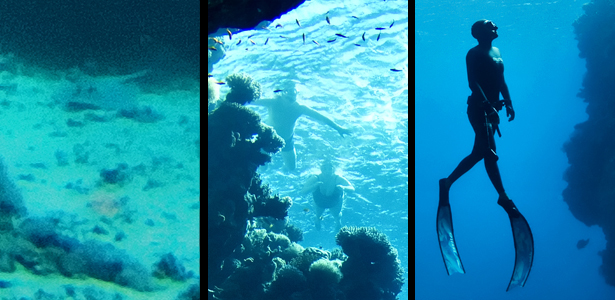 The blue-ish tint is due to the effective range of the strobes. Given the distance off all the subjects in the shot to myself it would have been impossible to 'illuminate' them all to yield perfect colours…hence the blue colour cast of the water.
Shot of the same Stingray taken only a few moments before…
And now the original: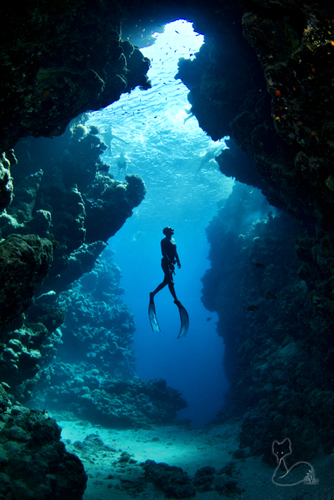 Although the original looks great as well (really love the blue of the water) I still have a preference to the B&W version.
After having posted the original shot on 500px and 1x.com, the image received a total of approximately 50 000 views in one week. It is also currently on National Geographic's site where it was received very well and gained even more views. Thank you to everyone who took the time to have a look and vote, as always it is much appreciated! 
Jacques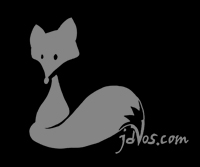 I would like to invite any companies/ partners or even individuals to work with me in achieving certain goals.
The idea is quite simple: Lets work together to make this possible…
I've always loved the ocean and have lived next to it my entire life and eventually ended up developing a unique skill set and doing work which kept me either in/on or under it. Three years ago I started my underwater photography with a Canon G9 in a little Canon housing…it was perfect for what I needed but eventually I realised that adding a strobe to the mix would open creative avenues not previously available to me. Enter my Canon G10, a new housing and a strobe…this lasted for a while but then I eventually realised that having a preference to wide-angle work I would need two strobes and a Wide Angle converter…and the trend kept on going…
Jacques de Vos – Blue Hole, Dahab Egypt. Photo Courtesy: Andreas Körber
Within three years I had replaced two compact camera systems, invested in my first big DSLR setup and then very recently (realising the need for video in addition to a few other upgrades now being in Dahab, Egypt) replaced the entire DSLR system again. Not being too well off, I am very fortunate to have a farther who supports me and what it is I do and he has made every effort to help me in a few of these (MASSIVE) investments. Then I also got big support from friends (Mike from Pisces Divers and Nick from Ikelite) who helped me get housings and strobes at near cost price.  Still…each one of these investments broke the bank and it was incredibly hard decisions to justify.
I have stuck with my photography and even though I'm still very much at an early stage I've gained the confidence in my work to consider it worthy alongside the work of some very well respected photographers and to keep going. This has been validated by having my work appear on such prestigious sites such as 1x.com where the submission criteria is VERY strict as photos are hand-picked by a professional curator and needs to survive a 'voting' system before being published on the site…only 1 in 20 uploads make the cut. One of my photos currently ranks fourth of the 'all time best' in their underwater section and several others rank almost just as high. Given the standard of the work which appear on the site its been a good motivator to aim even higher in terms of quality with every submission.
To blow my own trumpet a bit; In a short period of time I have accumulated multiple tens of thousands of views for both my land based and underwater work on sites such as Flickr, 1x, 500px and then now also my own site (most recently an image received close to 10 000 views in under 6 hours on 500px and instantly got selected as the 'Editors Choice' and this was not the first time).
I have sold images to International Airports and Airlines (Charles De Gaulle International, Dubai International and Lufthansa's In-flight magazine), my work has appeared on the front and main pages of several magazines (Full Circle, Divesite etc), it has been used on several web sites and I've been approached numerous times to have work published in books. A month ago one of my images of record freedivers Linda Paganelli and Lotta Ericson during training was purchased by Diving and Hyperbaric Medicine Journal to appear on the cover of the December issue as part of an article by leading Freedive Physiologist and researcher, Professor Erika Schagatay. As recent as this last week I was approached by a well known on-line actuality site who wants to present some of my work and do a feature on my underwater photography (made unique by the fact that it's all done on a single breath – a unique skill set which I use to shoot video as well).
This is the kind of stuff I was dreaming of when I started and it surely does seem very exciting and that I've been quite successful…
The reality…
Being a photographer does not pay the bills or even put bread on the table (If you are a photographer you will probably find yourself nodding to this right now). Even the most successful photographers spend more time promoting their work rather than actually taking pictures (a grim reality made very clear to me right when I started after having spoken to my 'mentor' and world famous Marine Photographer Brandon Cole). The fact is that very few people end up earning enough through their photography to live comfortably (let alone to one day retire!).
In an age where the internet is swamped with images taken on cameras of all sorts owned by nearly every person in the civilised world it has become so easy for buyers to rip off Joe Nobody by offering him next to nothing for his beautiful picture on Flickr compared to paying a professional photographer decent money for something similar…I still get peanut offers for some of my images through sites like Flickr from big companies trying to source cheap images from amateurs (some of these companies employ full time staff to 'source' cheap images this way). As an alternative there are stock agencies , but they offer very little compensation (considering what and image might be worth) and requires constant work from the photographer to upload vast libraries in the hope of selling one or two images a week.
In the three years I've been doing this and with all the success and exposure mentioned above the accumulated remuneration for all my work is less than what I made in a month during my previous position working in the oilfield. If you look at what I've earned solely from photos and video I have bought and sold the equipment to make it possible at a loss more than a thousand times over. Do I regret it?  No. Am I giving up any time soon? NO.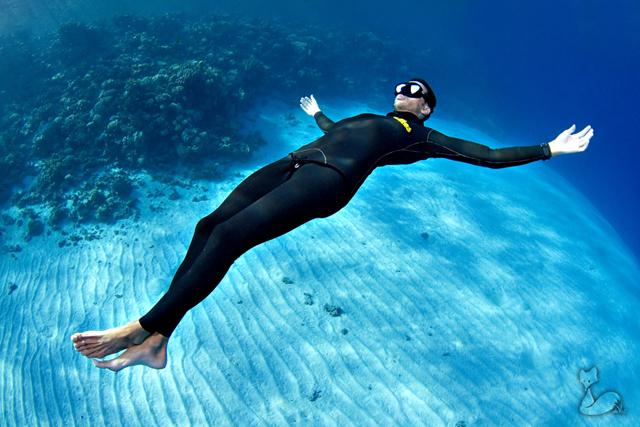 Given the fact that I obviously have a very clear understanding of what it means to be a photographer in this day and age, what I'm about to say might sound absurd:
My goal is STILL to become successful enough with my photography (and now also as a videographer) to be able to make a living and to keep doing what it is I love doing where I love doing it (close to and in the ocean!).
There are three very important truths about being successful as a Marine/ Underwater photographer:
You need to be good as a photographer, both technically and artistically.
There's no way around this, you either have it or you don't…but chin up, practice makes perfect
You need to get around:
Having spent my first two years in Cape Town, South Africa I can confidently say that specialising in Wide Angle photography will never earn you the big bucks there. It takes years to build up a respectable wide angle portfolio and the reality is that with the amazing diversity and all the life exploding in the two oceans that surround our coast in South Africa, having green murky water most of the year means that most photographers tend to favour Macro work. I spent weeks on end doing the same dive over and over to get just one decent shot (being happy when the visibility was more than 4 meters!), in particular with the Sevengilled Cow Sharks…As far as anyone at the dive centre where I used to work was concerned, I knew of only one dive site…the sharks.
Being able to travel to other destinations in the world gives you the opportunity to shoot in cleaner and more rewarding conditions with little effort and it also means seeing a larger variety of 'big stuff'. A friend recently returned from a short trip to Hawaii and in less than 10 days he had a multitude of amazing shots of spinner dolphins, eagle rays, turtles…you name it. It really put things into perspective when considering my own location and surrounds in terms of what is available to' shoot'. At the moment I'm working as a Freedive Instructor in Dahab, Egypt. It's been awesome in the sense that I get to shoot Freedivers and the odd Lionfish but as far as large and more diverse marine life goes, its not that exciting and the need to go somewhere else in search of the things I love (shark, dolphins, whales, ray's etc) and more diversity is always at the back of my head when I'm swimming around here looking for something unique to shoot…I'd sell my left big toe for a dolphin some days!
The bigger your equipment budget the better your pictures:
Admittedly there has been some awesome (and award winning) shots taken with compact cameras but how many people make a living with their point and shoot camera? Bigger cameras (DSLR's for example) means more expensive lenses, housings, strobes, ports etc, etc. And this doesn't only apply to what you do under the water line – as an example: For topside Marine photography you need a decent 400mm for that beautiful shot of a whale or even shark breaching, close up shots a pup in a seal colony etc…and good 400mm lenses aren't cheap!
The Proof
Looking at guys like Eric Cheng (who's work is mind-blowing) you'll very quickly recognise that I have a few points here…His work covers the marine life of the globe and he has been everywhere (and I mean everywhere!) and his shots are taken with the kind of gear that would make any underwater photographer envious (give him his dues, he has worked to get to where he is). Of course he has the first important asset which is skill, but believe me, if he was stuck in a small coastal town somewhere in the world where he had 10 species of fish to photograph even his work would look dull after the first 20 good shots.
A bit of financial freedom (and sometimes a non-restrictive nationality) makes it possible for people like Eric to expand on their portfolio and to let their talent run loose…
And now the conclusion
Images by Jacques de Vos published in Divesite Magazine
As I said before, I want to become successful as a photographer, both on land and underwater, (but particularly travel photography and  in the marine environment – under/over water) and to be frank I know that I have the skill to achieve this.
So from all of this it is quite clear that Underwater/ Marine photography is quite expensive and to make this possible I need a bit of financial freedom/ support in particular to maintain and acquire the equipment I use to keep doing this and more importantly to start getting around in order to expand my portfolio.
As I mentioned right at the start I want to invite any companies/ partners or even individuals to work with me towards these goals and the idea is quite simply to work together to make it possible. Sponsorships, assignments, advertising projects, gear reviews, travel photography…if its mutually beneficial, I'm up for it! Even something as simple as using certain bits and pieces of equipment leads to advertising…I know, as a Freedive and Scuba Instructor I'm always selling what it is I use personally (be it dive computers, wetsuits, fins, masks…) and as a photographer (without doing much) I've had numerous people ask me what equipment I use/ or simply see what I use with this resulting in them buying the same brand or even setup!
I am open to any suggestions and am always happy to consider opinions or ideas presented in this regard.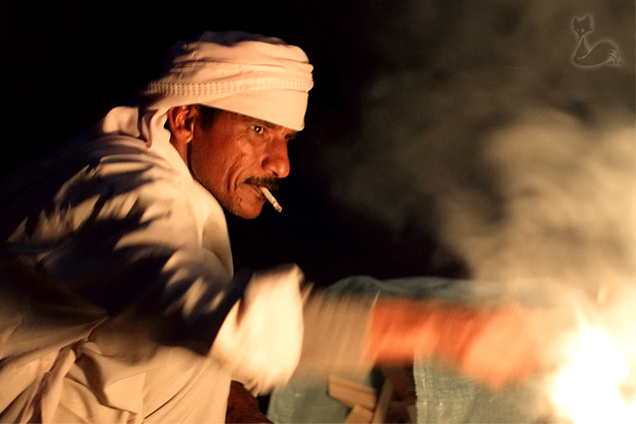 To 'sweeten the pot' a bit…In addition to my photography I've recently also taken up work as a videographer and in less than 6 months I have become quite successful with this medium as well. My Freediving Videos for Freedive International have gained amazing rankings and view counts on Youtube and elsewhere on the web (have a look at the Video I made for Sara Campbell of her earth shattering 104 meter dive) and I've even had the opportunity to assist world renowned BBC cameraman Michael Pitts with footage for an upcoming BBC miniseries (also while filming World Record Freediver, Sara Campbell). Most recently, one of my Freedive International clips was picked up and will appear on the supplementary DVD on an upcoming issue of Spearfishing Downunder Magazine.
Therefore if anyone is interested in working with me I'm also more than happy use video as a medium (commercials, promo stuff or just raw footage) in addition to photography. In support of this I'm also a certified Commercial Diver which is a 'must have' for most clients when doing any underwater work/filming work for bigger projects such as documentaries.
 Click on the 'Playlist' box to view all videos available (scroll menu appears at bottom of player) and be sure to watch them all in HD:)
It goes without saying that I'd gladly represent anyone who would be willing to work with me (branding, advertising, logo placement etc) and I'm really looking forward to getting things off the ground.
Thank you for reading my blog and please feel free to use the contact section of this site should you like to get in touch for more information or would like to discuss ideas or make further suggestions.
Jacques de Vos