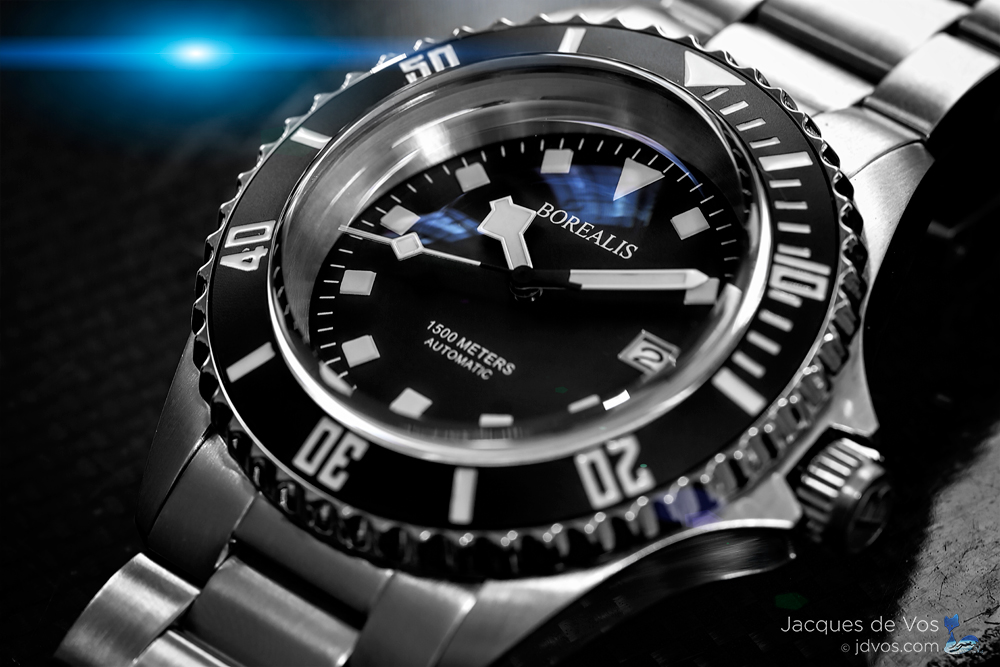 Jacques de Vos is qualified as a Commercial Diver, Recreational SCUBA Instructor and Freediving Instructor Trainer and works as a full time Professional Underwater Photographer & Cameraman.
Review Criteria
Reviews for dive watches are carried out in my capacity as a diver where every dive watch is worn on a daily basis for a minimum of 10 days and put through its paces on actual dives.
Review Of The Borealis Seahawk 1500

Borealis Watch Company was founded in February 2013 by Maria Ivanova in the city of Amadora which is located in the Lisbon Metropolitan area of Portugal. A former Prometheus Watch Company employee, Maria Ivanova set out to establish a watch company which would provide professional, reliable, affordable watches using reliable mechanical movements and made with the highest grade quality tools and materials.
In a very short time Borealis timepieces have already established its client base in the United States, Canada, United Kingdom, Singapore, Malaysia, Australia, South Africa, Portugal, Germany, France and Taiwan.
First Impression
It was by complete coincidence that I stumbled onto the Borealis website after doing research for an article on affordable automatic dive timepieces.
At a glance the website did not seem like much and makes no effort to 'dazzle' the viewer with flawless marketing photos of their timepieces. Browsing the limited pages on display you'll quickly find its main purpose is to offer the nuts and bolts of each timepiece available, along with an easy to use shopping cart function to purchase these watches. As is the case with many companies these days, most of the activity for Borealis seems to be through their social presence on Facebook where followers get a fairly up to date feed of the development of new watches along with direct feedback to questions in the comments of posts.
Having gone with the Seahawk 1500 (black) I was more than curious to see how much Borealis had to offer for the modest price of this watch. Listed below are the specifications provided for this watch as featured on the Borealis website:
– Case Size: 42mm x 50mm
– Screwed down crown with 'B' logo
– Double Domed Sapphire Crystal with anti-reflective coating (inside).
– 120 clicks unidirectional ceramic bezel with BGW9 lume applied to indexes
– Seiko NH36 / 4R36 Automatic Movement
– 316L Stainless Steel Case
– Lug Width: 22.00 mm
– Water Resistance: 1500 meters
– Case height: 15.9 mm
– 316L Stainless steel bracelet with precision adjustable buckle
– Swiss Made BGW9 Superluminova applied to dial, watch hands and ceramic bezel
– Screwed Case Back with engraved mermaid
– 12 months warranty
On paper this looked like a very impressive dive watch with features matching those of higher end pieces by some better known watch brands. This piqued my interest even more although naturally some doubt remained.
It did not take long to receive the watch and I was genuinely impressed upon taking it from the minimal but neat packaging. The first 'hands on' impression was that whatever I saw online (including images by other reviewers) did not do this watch justice.

Quick First Overview
Both the watch and strap are made from 316L Stainless Steel and have a very solid feel and construction. Weighing slightly more than 200 grams it definitely feels the part of a deep diver with its 1500m depth rating (4920 ft).
The double domed sapphire crystal glass on the face of this watch is stunning and one of its most appealing features. With the resemblance of gazing into a semi bubble, the anti-reflective coating is also clearly visible under light sources as beautiful blue curved light reflections. The glass sits roughly 2mm over the crown of the watch and features a fine domed bevel edge adding to the high quality look of the glass.
The ceramic bezel of the watch is a beautiful matte black and it has a very crisp 120 unidirectional clicks.
Its bezel is marked with recessed 0 to 15 minute markers as well as numerals in the standard 10 minute interval (10 to 50). These are painted with BGW9 Superluminova giving it a soft white finish which is complimentary to the matte black of the bezel. On the model I received the 12 hour bezel marker was slightly misaligned with the 12 hour mark on the dial of the watch at just under half a millimeter to the left. Although this is a small potential flaw the average wearer will not notice, it is quite a common annoyance to dive watch lovers, however, easily fixed.
The dial of the watch displays as a beautiful crisp black finish in contrast to the matte finish of the bezel with matching BGW9 Superluminova hour markers. The images here show the design quite clearly so no need to go into further detail on layout.
The only silver detail on the dial of the watch is the frame around the date window shown at the three o'clock position. The hands feature a snowflake design and many other reviews for this watch have commented on the resemblance to other well-known watch brands so apart from saying it is fitting, no further discussion is necessary
Although a seemingly small touch, another personal favourite of this watch (and some other Borealis models) is the mermaid emblem which is engraved on the case back.
The case back is necessarily thick to accommodate the 1500m depth rating of this watch and it does protrude quite a bit in the rear meaning that the watch sits quite high on the wrist. This is however not necessarily a downside and for most just something to get used to if used to timepieces with a lower profile.
The watch has a typical screw down crown featuring a nicely aligned 'B' logo (when screwed down) which appears to be an insert rather than having being engraved on the actual crown.
As mentioned before the bracelet is made of 316L Stainless steel and has a nice brushed finish. A big plus for divers is the precision adjustable extension buckle which is a feature quite often missed on higher priced dive watches. This extension allows for the watch to be worn over the wetsuit and is usually a must have feature for dive watches using a bracelet when used on dives where a wetsuit is worn.
Timekeeping
The following findings are based on ten days of wear and usage.
As listed in the specifications of this watch, it features the 24 jewel Seiko NH36 / 4R36 automatic movement which is capable of being hand wound and hacked (seconds hand stop when crown is pulled out) and has a power reserve of roughly 41 hours after being fully wound.
After the initial wear in period I was wearing the watch approximately 14 hours a day and laying it face down at night and it seemed to settle at gaining roughly 13 to 15 seconds a day which is in the specification limit of this movement.
Diving
A quick explanation on helium in relation to saturation diving:
Commercial divers who operate at great depths often spend prolonged hours in diving bells under pressure breathing a gas mixture that contain helium or hydrogen (ex: trimix). As helium atoms are the smallest natural gas particles found in nature, these gas atoms are able to work their way inside the watch around any o-rings or other seals the watch may feature. It is relevant pointing out that this happens in a dry environment (inside the diving bell) and not while directly in contact with water while diving. As long as the divers are under pressure, this poses no problem but when the decompression stops during resurfacing aren't long enough to allow the helium to escape as it expands, a pressure difference builds up between the trapped gas inside the watch case and its environment. Depending on the construction of the watch case and crystal this build-up of pressure can cause damage to the watch.
The Borealis Seahawk has an impressive depth rating of 1500m making it suitable for commercial or saturation diving at depth. The case back is held down by six screws so that with the increasing pressure of water it becomes more and more water resistant and inversely, with decreasing pressure the case back 'relaxes' so that any trapped helium is easily bled off across the internal o-ring. In general, any form of helium valve is very specific to saturation divers so for most wearers this function is nothing more than a curiosity feature. In addition to this the 1500m depth rating is also a novelty for most divers as even most of the deepest recreational technical divers tends to dive shallower than 150 m (490 ft) with the current deepest scuba dive record being 332.35 meters or 1090 ft (Ahmed Gabr 2014).
The watch reviewed in this article was used on repetitive dives at depths of up to 50 meters or to evaluate basic water integrity, comfort and ease of use as well as putting its dive specific features to practical use.
At the time of finishing this review, I had worn and dived with the Borealis Seahawk for just over a month and have been very pleased with it in the water. The dial is clearly visible both at day and in low light conditions. The watch also sits very comfortably on the wrist, either with or without a wetsuit. In the testing period the watch was worn very comfortable over a 5mm and 3mm wetsuit and would easily acconodate thicker / bulkier suits as well.
The watch holds up very well to the unavoidable bumps and knocks while diving and the sapphire glass still looked like new after having been exposed to situations where scratches would not have been unexpected. Most importantly, the watch maintained its waterproof integrity throughout the testing period and I never had cause for concern as the crown screws down quite firmly and maintains a good lock. The bezel is very easy to grip and operate underwater and the clicks remain as crisp as it does on land. As with most classical dive watches, the Borealis Seahawk has limited but practical functionality and considering this it performs as needed while diving and on land.
The images accompanying this article gives a good impression of the watch underwater and overall, I was very satisfied with the Borealis Seahawk 1500 both on land and underwater. At the price, as a daily wearer for divers you cannot go wrong with this watch and I would highly recommend it to anyone looking for a dive watch in the 300 to 500 USD price range.