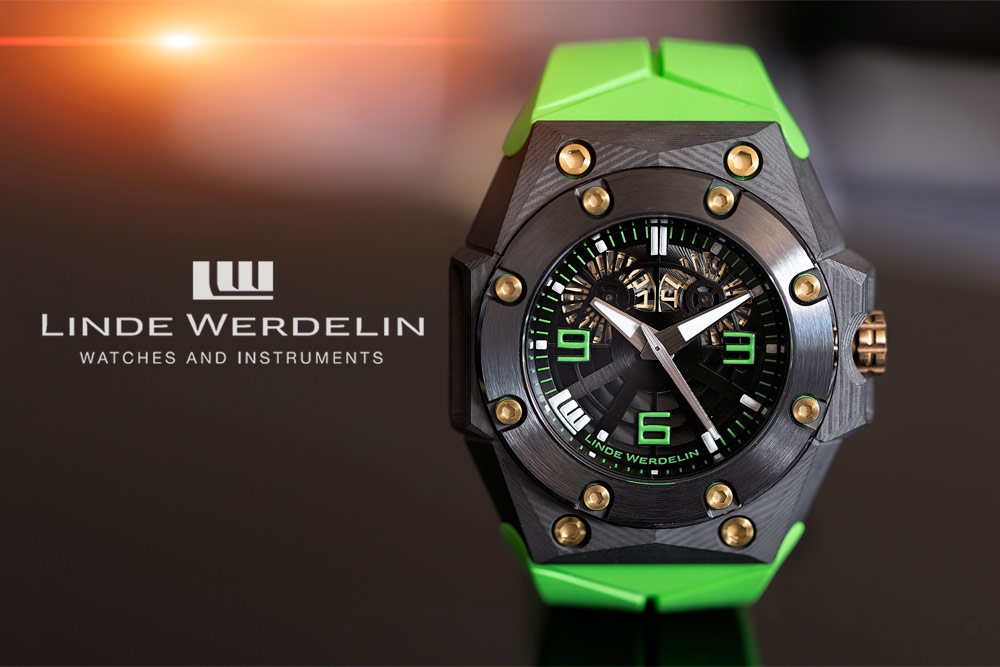 Linde Werdelin Oktopus Double Date Carbon – Green Review
Jacques de Vos is qualified as a Commercial Diver, Recreational SCUBA Instructor and Freediving Instructor Trainer and works as a full time Professional Underwater Photographer & Cameraman.
Review Criteria
Reviews for dive watches are carried out in my capacity as a diver where every dive watch is worn on a daily basis for a minimum of 10 days and put through its paces on actual dives under realistic and sometimes extreme conditions.
There is something to be said for a great backstory…
Be it craft beer, a handmade Damascus steel knife or a Savile Row suit, for most of us there is something very personal in knowing that what you hold in your hand was produced by a passionate individual (or individuals) through trial and error and quite often years of determination and effort. With these products you are acutely aware of the sense of pride of the individuals who created it, without which this product would not be allowed to reach the consumer. Although big brand alternatives might often be better known or easier to purchase, they often fail to evoke the same personal connection to the passion of its creators.
The same can be said for luxury watches and although the quality of mass produced luxury pieces might be faultless, it's often hard to see beyond anything more than the quality, aesthetics, material value or brand the watch represents.
Linde Werdelin definitely falls into the 'craft beer' category of watches. Born out of a life threatening event in the Swiss Alps, a 40 Year friendship and an uncompromising drive for genuine quality and usefulness, their timepieces definitely checks the box for an interesting backstory and each limited edition piece was created to the exact standards set by the two men they proudly represent. The Linde Werdelin Oktopus Double Date Carbon – Green is a perfect example of this…
LINDE WERDELIN
History
Since starting in 2002, Linde Werdelin has firmly established itself in the luxury sports watch market by bringing together the best of Swiss craftsmanship and Danish design ingenuity.
The brand was established by Jorn Werdelin who is the visionary and driving force behind Linde Werdelin and Morten Linde, the creative mind behind the stunning designs and fine details of the Linde Werdelin universe.
Jorn is the third generation in a family of jewellers as well as an avid skier and diver. While skiing in the Swiss Alps in 1996 he was taken by surprise in a bout of bad weather, got lost in the subsequent poor conditions and while trying to find his way, Jorn fell from a cliff and broke his back. This tragic event opened a door to one of the core ideas which would spark the Linde Werdelin range.
In 2002, Jorn and Morten partnered to develop a highly crafted sports watch which, when required, could be combined with a professional digital instrument to provide the right level of information at the right time for skiing and diving.
For Linde, "analogue is the best way to read time; digital is how you assimilate technical details". From this basic premise a perfect combination of analogue and digital instruments were born that could deliver both style and function, without having to compromise.
Their Dive and Ski Instruments are at the forefront of digital technology, developed and produced in-house by Linde Werdelin.
Morten explains that the Danish process of design and continued innovation usually follows the same premise in which a problem is presented for which a working solution needs to be found.
When Linde Werdelin initially started, they were approached by an expedition team who were going to climb Everest and needed a light timepiece to accompany them. At the time Linde Werdelin were still producing stainless steel watches which were deemed too heavy and this one request fuelled the design process in which the entire case of the then Spido was reimagined and reengineered to be as light and functional as possible. With Morten Linde always exploring new materials and possible enhancements, this evolution of improvement never stopped and the current Linde Werdelin range embodies the whole history of solutions to previous problems.
Limited Edition
Individually handcrafted with the utmost care and attention to detail, the entire collection of Linde Werdelin watches is offered in limited and numbered series of 59, 88, or no more than 100 pieces for each design. Each piece is numbered accordingly adding to the personalised appeal of these pieces.
OKTOPUS DOUBLE DATE CARBON – GREEN
The Linde Werdelin range of Oktopus watches feature a modern angular design and can be divided into two main groups or complications. One series features a detailed moon phase complication, while the double date series reviewed here features a skeletonised double date-wheel complication visible near the 12 o'clock position.
THE REEF – The Beginning
In what is the perfect example of how Jorn and Morten have stuck to the core idea of perfecting the combination of analogue and digital instruments, few people realise that the Oktopus case was actually inspired by their flagship dive computer, THE REEF.
The angular case of the Oktopus is distinguished with indentations at 3 and 9 o'clock to hold the REEF instrument in place. The faceted design also allows the strap to seamlessly fit into the case.
Jorn Werdelin explains:
"The construction of the Oktopus case was inspired by the Reef. Because all the functionality is in the Reef the Oktopus is not a dive watch per se but more inspired by diving and sea – so for example we only work with super anti corrosive materials in the case – 3DTP Carbon, titanium grade 5, ceramic, gold, etc."
" The five part case construction was inspired by the central chamber being in effect like a dive bell which is sunk down deep into the sea with human life inside – here watch life, a ticking machine. The two parts at 12 and 6 are attachments for holding the rubber strap and the two parts at 3 and 9 to hold the Reef – and then converting it into a dive instrument."
Through this simple approach a stylish yet highly functional dive instrument was born in the form of the REEF and the Oktopus you see here.
3DTP™ (3-Dimensional Thin Ply) Carbon Casing Technology
The Oktopus Double Date Carbon features a first in watchmaking in the form of its case which is sculpted into its signature geometric structure using 3DTP™ carbon composite.
Morten Linde designs all the parts of the Linde Werdelin watches and has always been directly involved in the development and selection of materials. This breakthrough material is the world's first proprietary technology carbon conceived for Swiss watchmaking and more than two years of research and development went into perfecting this technique. It then takes another lengthy handcrafting process to arrive at a sculpted watchcase and absolute precision is required to achieve the final result. Working on such a small surface and carving the case into perfectly cut facets requires a highly meticulous and experienced craftsman.
"This is the very first time a carbon material has been formulated to produce the desired aesthetics for a watch case. We devised the micro carbon layered finish to enhance the Oktopus case architecture," says co-founder and creative head Morten Linde.
First Impression
The Oktopus Double Date Carbon arrives in a presentation box as unique in geometry as the watch it holds. In addition to the main presentation box, there is a smaller 'extras' box which contain the warranty card and a very sleek looking ,silver credit card sized USB card (like an ID card from a Sci-Fi movie!) on which you will find the Oktopus manual in a digital format.
The main presentation box features the Linde Werdelin logo and a single push button latch to access the interior. Once inside you will find the Oktopus in a black velvet interior which makes for a great first impression.
A quick overview of the listed features of the Oktopus Double Date Carbon – Green:

Outer Case
– Three-part case construction; sculpted multi-layered carbon in 3DTP™; satin, polished and micro bead blasted finishing
– Sapphire crystal, anti-reflective on the inside
– Crown: Titanium; screw-down; TiN treatment; micro bead blasted and rough circular satin finish; engraved with an octopus icon
Back Case
– Titanium; TiN treatment; engraved with a multi-layer octopus motif; micro bead blasted and circular satin finish
– Limited edition number laser engraved from 1 to 88
Bezel
– Black ceramic; satin on top surface; polished facet; micro bead blasted in grooves
– Titanium screws with TiN treatment; green tension discs
Dimensions
– 44mm (w) by 46mm (l) by 15mm (h)
Movement
– Linde Werdelin-modified Dubois Dépraz calibre 14580
– Power reserve: 44 hours
– Balance frequency: 28,800vph (4Hz)
– Jewels: 23
Dial
– Five-layer skeletonised dial
– Réhaut and top dial: black, circular satin finish
– Lower dial: black, circular Côte de Genève finish
– Hands in titanium colour; satin finish, cool grey Luminova
– Large numerals 3, 6 and 9 in green Luminova with black frames
– Hour indexes and logo in cool grey Luminova
– Minute indexes and logotype in green Luminova
– Double Date
– Skeletonised date wheels visible at 12 o'clock
– Titanium wheels treated with TiN
Water Resistance
– 300m
Strap
– Interchangeable natural rubber strap in green, with DLC-coated titanium ardillion buckle
This is in not the first Oktopus I've received from Linde Werdelin with my first encounter having been with the Double Date Titanium Red. That being said, even though this was my second time reviewing an Oktopus, by no means did it dull the awe of first laying eyes on the Double Date Carbon with its striking green features as it is truly a stunning watch.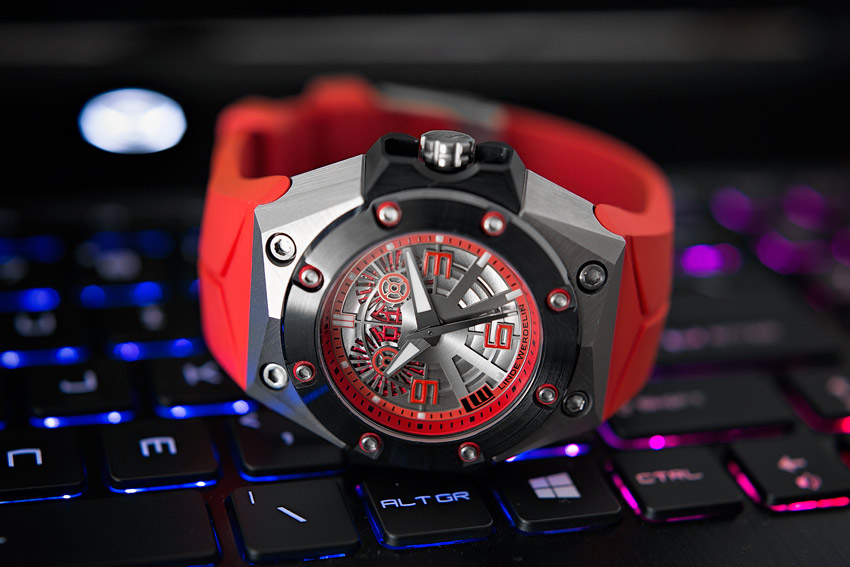 Quick First Overview
Case
With its 3DTP™ carbon composite case, titanium case back along with the standard natural rubber strap the Oktopus Double Date Carbon is an exceptionally light dive watch. At 44mm wide by 46mm long the watch perfectly fits the profile of a medium sized wrist, falling away over the edges quite elegantly which makes it look like a bigger watch without looking oversized. In terms of height it comes in at 15mm which is comparable with something like the larger ORIS Force Recon GMT in my last review, although to the eye it looks far sleeker and by no means bulky, thanks to the stealth like geometry and edges of the Oktopus Double Date Carbon case.
With its light catching layers and fine detail, the anti-corrosive 3DTP™ carbon composite case is without a doubt one of the highlights of this sports watch. As someone who is familiar with carbon composites on a larger scale and the work involved in getting it right, I've spent a considerable amount of time simply admiring the craftsmanship of the case and can say quite confidently that there is not the slightest indication of a flaw. So much thought has gone into the process of design that even the direction of the fibres is complimentary to the shape of the case (note the directional lines framing the dial as well as the right angle of the layers over the crown).
The glass used for this watch is a scratch resistant sapphire crystal with anti-reflective coating on the inside. It sits roughly 1mm higher than the bezel giving it a nice elevated appearance without making it stand out too much.
Another personal favourite is the colour combination of the Oktopus Double Date Carbon Green. Champagne gold details, carbon black/gray and the awesome neon green details and strap. It's a clean break from more traditional colours and this approach is also visible in the rest of the Linde Werdelin range. While wearing them, both the Carbon Green and Titanium Red Oktopus watches have been instant conversation starters and despite these eye catching colours would complement a suit as well as it does a wetsuit.
The screw down case back is another work of art. Morten Linde designed the brilliant octopus and LW design adorning the champagne gold case back. The graphic designs are hand drawn by Morten before being converted into a digital format which can be milled into the watch case. The serial for each piece is located just below this design (in this case 44/88) and the edges of the case back feature the 300M depth rating, the Oktopus name and designation (in this case OKT.CG), a 'RINSE POST SEA' reminder as well as a circular reference (circle with two smaller circles) to the double date complication of this watch.
Bezel
The Bezel on the Oktopus Double Date Carbon Green is made from a black ceramic with a satin finish. The bezel has indentations at 45 degree intervals which form the recessed positions for eight titanium screws (TiN treated champagne gold in colour) which in turn are tightened onto matching green tension discs. These discs form another one of the great subtle details which are visible on this watch and despite its discreet appearance also holds a story of the evolution of design in Linde Werdelin pieces.
Crown
As with the case back and screws on the Oktopus Double Date Carbon Green, the screw down crown has been treated with medical grade TiN which gives it a matching champagne gold colour. The crown has an engraved squid like design on its flat end and the edges of the crown feature a rough grip-like pattern making it easy to operate.
The crown is easily gripped and turned, requiring 1 and ¾ turns to move it from the locked to zero position. Pulling it one 'click' out to the one position allows you to change the date without hacking the movement by turning the crown anti clock wise. Position two allows you to hack the movement (by stopping the balance wheel of the escapement) for synchronizing and then adjusting the minute and hour hands.
Dial
The five layer skeletonised dial on the Linde Werdelin Oktopus Double Date Carbon is rich in detail and design. Throughout the Linde Werdelin range you will also find some small anecdotes or designs hidden by its creators if you look close enough.
The top dial is a satin black and forms a perfect contrast to the large green numerals at 3, 6 and 9 which all feature green Luminova with black frames. The lower dial has a beautiful Geneva stripe or 'Côte de Genève' finish which is revealed even better in direct light. The hour, minute and second hands are of a titanium colour and are also coated in cool grey Luminova for night time viewing.
While writing this article I had the pleasure of talking to Morten Linde and he was kind enough to share some of the hidden Linde Werdelin anecdotes in the design of his work.
"We love adding small stories in the design of some our watches…it allows people to continue discovering new elements to the watch, even after having owned it for years" says Morten. A great example of this is the octopus hiding in plain sight on the dial of the Double Date Carbon Green.
Looking closely you'll notice six of the eight arms extending from the centre body of the dial to the 3, 4, 5, 7, 8 and 9 o'clock positions. The last two arms are extended overhead between 10 and 11 and 1 and 2 o'clock, and the eyes are in fact made up out of the two date complications. The Côte de Genève' finish sits just below the dial from 3 to 9 o'clock which resembles moving water surface (ripples) in which the octopus resides.
Looking at the rest of the dial, there are also clear hour indexes and a LW logo between the 7 and 8 o'clock markers, all in cool grey Luminova. Minute indexes are of a finer green Luminova, although clearly legible in light.
The feature which gives this watch its name is of course the Double Date complication consisting of two skeletonised date wheels which are visible at the 12 o'clock position. These wheels are also made from titanium and treated with TiN. The date wheels themselves are a true work of art and another hidden story with a lot of research having gone into perfecting its design and realising its production (more on this in future articles). Upon closer inspection, the full wheels can be viewed through the fine skeletonised dial revealing a small part of the movement below it as well.
Lume
The lume on the Linde Werdelin Oktopus Double Date Carbon is of a decent quality and was clearly legible for between three and four hours after steeped in total darkness. After this it does become dimmer but is still visible enough to make out the time throughout the night if the viewer's sight has adjusted to low light.
Movement & Timekeeping
The Oktopus Double Date Carbon Green features a Linde Werdelin modified 14580 Dubois Dépraz calibre. This is music to the ears of most watch aficionados as Dubois Dépraz is a highly respected watch movement module brand, located in the mountainous region of Switzerland's famous Vallee de Joux where their factory (they have three) sits among many famous watch brands in the area.
The moon phase complication awas developed by Linde Werdelin in-house, and the double date is a modified version of an existing Dubois Dépraz calibre.
Needless to say that the complication inside the double date carbon is of an exceptional quality and after several weeks of testing, I can confirm its reliability.
Timekeeping is well within the 'Reasonable Accuracy Expectations' for a non-certified modern mechanical watch and after the first week of use, the time gain settled to roughly 7 seconds a day.
Taking The Plunge
As with all previous reviews, the Linde Werdelin Oktopus Double Date Carbon Green was tested under real diving conditions. For this review, the watch was used with and without the REEF dive instrument and a separate review of the REEF will be featured at a later stage.
Diving locations included False Bay as well as the Atlantic Seaboard of the Cape Peninsula in South Africa, as well as the northern Atlantic Ocean around the Canary Islands (Tenerife).
Comfort
With its exceptionally light weight and streamline profile, the Oktopus Double Date Carbon is a great watch to wear. The green natural rubber strap is easy to adjust, even in-water when worn over a wetsuit. After numerous dives, the strap also showed no signs of discoloration which is a common issue with silicone and rubber straps exposed to salt water.
Legibility
With its broad to narrow trapezium shaped, titanium and white Luminova hands on the contrasting dark black dial, the Oktopus Double Date Carbon Green is legible under all conditions. During day light the watch was extremely easy to read both in and out of the water with a quick glance. Night time viewing was also easy with the Luminova coated markers and hands.
The titanium date wheels on the Double Date Carbon Green are TiN treated and its champagne colour is fairly easy to read, although not as instantly legible as the Red Titanium version of the Oktopus. The reason for this is that the 'active' gold numerals have the silver movement of the watch as a background through the skeletonised design, so the contrast in colour is not vastly different. That being said, it is by no means unclear and once you get used to finding the date at the 12 o'clock position, the date can be checked with a quick glance.
Practical Use
As a diver I had a lot of interactions with other divers while testing the Oktopus and REEF diving instrument. One of the most common questions that came up was 'but why not just have one dive computer which tells the time'?
As someone who loves analogue watches, the answer seemed quite obvious and in the end it comes down to the user. As will be discussed in an upcoming review, the REEF is a powerful dive instrument and while scuba diving it provides a myriad of information on a large format colour screen which is ideal for diving. Underwater it's a blessing, but would I want to wear this as a watch when I'm not diving? No, not really and for the same reason I don't wear my smaller hybrid dive computer/watches (like the Suunto D6i) when I'm not diving – because it is not a watch. This might seem like a ridiculous answer to anyone who does not love watches, but this review is not aimed at them.
With this in mind, I definitely appreciate the design of what Linde Werdelin has created in both their Ski and dive range and I believe their products have a definite place in the luxury watch market which has not been explored before. A great dive instrument which couples to an awesome luxury automatic sport watch when needed.
The Linde Werdelin Oktopus Double Date Carbon Green is an easy watch to fall in love with and I can see why someone with the means to do so would invest in the watch first and then add the REEF later (or not, if not needed).
Final Thoughts
Having had ample time to use the Linde Werdelin Oktopus Double Date Carbon Green I'm more than happy with my personal user experience. It breathes fresh life into luxury sports watch design with its great modern design while at the same time being tough as nails and easy to use.
Whether you are a tech junkie or not, when one learns of the cutting edge materials, techniques and time that went into creating this piece you cannot help but admire what it represents in terms of research, passion and pride.
Linde Werdelin is represented in over 28 countries worldwide and they also offer viewings at their exclusive Denmark and London offices. Here you might even have the opportunity to speak to Jorn and Morten themselves as they are always happy to spend time and interact directly with their clients.
For updates on the upcoming video be sure to follow Jacques de Vos – Underwater Photography & Media on Facebook for the latest news and updates.