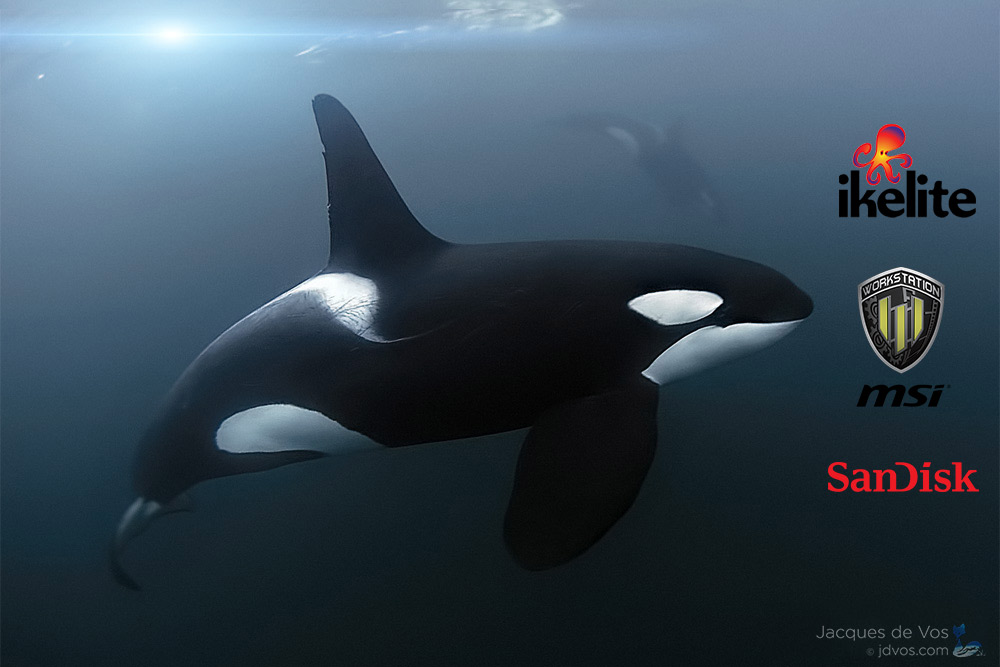 Magic Lantern RAW Underwater
During a research expedition to film orca in Norway last November, I decided to get the most I could out of the video footage I was tasked to shoot. In order to achieve this and to maximise the quality and editing flexibility I opted to use the 5DmkIII Magic Lantern Firmware to shoot Uncompressed 14-bit RAW video underwater.
The results were nothing short of incredible…
The Right Equipment For The Job
Anyone who has played a bit with the Magic Lantern firmware in order to film uncompressed video knows that the resources associated with making this possible are quite demanding.
My setup for the hardware used underwater included:
– Canon 5DmkIII loaded with the Magic Lantern Firmware on a SD card
– Ikelite 5DmkIII Housing
– 3 x SanDisk Extreme Pro 256GB Compact Flash Cards
All editing was done on the MSI WS60 2OJ workstation.
Benefits Of Using Magic Lantern RAW Underwater
A huge benefit of shooting uncompressed video underwater is that you can 'push' it much further when performing colour correction in post without introducing artefacts and banding usually associated with compressed video. This is due to the larger bit depth which retains far more colour information than that found in compressed video – for example the standard video files from the 5dmkIII.
The quality of the video is also significantly better due to an increase in overall sharpness and also more of a cinematic look (for lack of a better description).

Basic Settings
As this article is not intended as a tutorial, I will only be discussing the results rather than the workflow. There are numerous posts online on the procedures for installing Magic Lantern on your camera and the settings vary depending on your need.
While filming uncompressed Magic Lantern RAW underwater footage in Norway, I had to use very high ISO values due to the low light conditions. That being said, the 5DmkIII is very forgiving at these settings and with proper post processing it is possible to get very clean and almost noise free results.
My camera was usually set to manual and I was filming at 1920 x 1080 at 25fps. With the current version of the Magic Lantern Firmware there are no breaks in the video and you can film uninterrupted footage which is ideal for longer sequences. That being said, the final files can be massive so be sure you have lots of storage space!

Challenges
The Magic Lantern Firmware unleashes the true potential of the 5DmkIII and although the benefits greatly outweigh the issues associated with using the firmware, it becomes quite challenging when taking the camera underwater.
The major issue I had is with the lack of variable ISO. When filming with ML on land, it is usually possible to plan and setup the shot you need with the least amount of change in the dynamic range of the sequence you are filming. When filming underwater you inevitably have to pan up or down, or left to right (imagine tracking a moving whale) and in these cases the change in available light can be huge.
Luckily the 14 bit Uncompressed RAW footage can be stretched quite a bit in post to play with underexposed or overexposed (not blown out) shots. This requires quite a bit of keying with longer sequences but the results are definitely worth it.

Ikelite – Taking The 5DmkIII Underwater In The Arctic Circle
As we were moving around and diving in the most northern part of Norway, the temperatures could be quite extreme. The Ikelite 5DmkIII Housing had no problems handling these conditions and performed as reliably as I have come to expect from Ikelite products.
The Ikelite housing also offers direct access to all the controls you need to operate the camera fully, even with Magic Lantern loaded. Operating the housing was not an issue at all, even with 6.5mm neoprene gloves which also proved to be extremely important given the amount of tweaking I initially had to go through while familiarising myself with the Magic Lantern Firmware Underwater.
Another vital feature of the Ikelite products is that they are easily serviced with the kits and parts available, so even if I am on a remote catamaran for days, I can address any potential replacements that might be needed (usually nothing more than replacing a slightly sticky button after years of hard use!)
Its worth pointing out that Ikelite also offers an arsenal of extras ranging from professional video lighting and strobes to Fluorescence add-ons .

SanDisk Extreme Pro 256GB Compact Flash Cards
During out expedition it was vital to collect as much footage as possible and this meant that I could not afford to have technical failures. If there is a weak link in the Magic Lantern chain, it would be the type of memory card you choose to use with it. Checking the Magic Lantern website you will find a wealth of information in the forums on which cards to use.
As I could not afford to risk write errors and corrupt footage, I chose to use the SanDisk Extreme Pro 256GB Compact Flash Cards. The price might be quite high for these although I cannot stress how small this cost is in terms of importance to any commercial project. The SanDisk Extreme PRO CompactFlash Memory Card can operate in temperatures ranging from -13ºF (-25ºC) to 185ºF (85ºC) and with transfer speeds of up to 160MB/s supports VPG-65, the Video Performance Guarantee specification that ensures smooth 4K video recording as well as Full HD.
Over the course of more than 3 weeks of continuous filming both underwater and on land, I did not once experience any issues due to the SanDisk cards I used. With its large capacity, I always had more than enough storage for a full session in the water (my camera battery would die before I got close to filling the card) and having the additional two cards meant I could replace cards and then empty them later.

MSI – Post Filming Workflow
At the end of each day I would transfer the uncompressed RAW footage straight from the SanDisk CF cards to an external hard drive using a USB 3.0 card reader (highly recommended to make it fast!).
RAW video clips were then checked using MLRawViewer before converting the clips to DNG sequences with Raw2cdng. The DNG sequences were then imported into After Effects where the final editing and corrections were made.
In order to do all of this in the shortest time possible I had to rely on a workstation which was portable enough to carry anywhere while at the same time being powerful enough to handle the heavy workload. 70 Seconds of Uncompressed 14 bit video results in a 6.2 GB file which in turn needs to be converted into a DNG sequence (another 6 GB), which is then rendered into a final ProRes file (1 gig). The MSI WS60 2OJ is an unbelievably powerful workstation and handles all the tasks you throw at it without a problem.

Conclusion
After switching to using Magic Lantern RAW Underwater to capture 14 bit uncompressed video, it is very difficult to use the standard compressed video that comes with the 5DmkIII.
Although the stock video in the 5DmkIII is great for home use or quick online videos, it falls horribly short of the quality footage achievable when using the Magic Lantern Firmware. A quick search online will reveal that almost every ML user warns of the tedious workflow associated with processing RAW ML footage, although for me the final results are definitely worth it.

Freedive / Snorkel With Orca & Humpback Whales
If after having seen some of these clips you feel like sharing the experience of seeing these amazing animals underwater, have a look at the exclusive expeditions Arctic Freediving has on offer. Trips on board a luxury catamaran are scheduled for November 2016 and January 2017 and spaces are limited to five people per trip, so not an opportunity to miss.
All footage Copyright Jacques de Vos
Please feel free to contact me through the contact section of my website for information on licensing any of these videos.