I've been using Flickr.com now for nearly two years and it was a great source of information as well as inspiration. The support from other members was also invaluable and I've learned much from studying other photographers discussions, photos and comments.
Last night I launched this site (partially) and as a semi-farewell to Flickr posted a photo I took in Dahab Egypt of Linda Paganelli while we were diving at Eel Garden: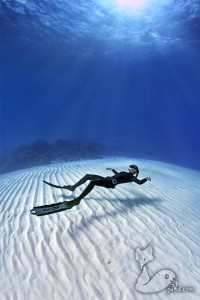 Ironically enough this 'final post' landed at the #2 spot of Flickr's Explore page (most interesting photos of the day) and has actually had more views than the photo ranked number 1! In the few hours its been online its had over 1122 views, 49 comments and its been 'favourite-d' 106  times and counting!
If looking at this photo has the same effect on you which movies like 'The Big Blue' and even 'Into The Blue' have on most of us ("…I seriously need to start Freediving…") then check us out on our website at www.freediveinternational.com or by clicking on the link below: