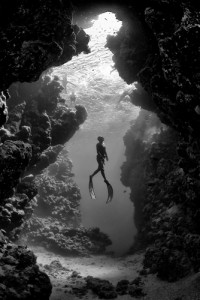 Record Italian freediver Linda Paganelli, ascending in front of one of the caves in the Ras Mohammed National Park just south of Sharm el-Sheikh.
This cave when viewed from inside revealed the silhouette of a lady from the Victorian era. Look closely…she is wearing a wide dress, a hat and has one arm on her hip (the other holding a purse).
Ras Mohammad national park is considered to be one of the best dive locations in the world. It is situated at the southern most tip of the Sinai Peninsula, with the Gulf of Suez on the west and the Gulf of Aqaba to the east.
Location: Ras Mohammed National Park, South Sinai, Egypt.