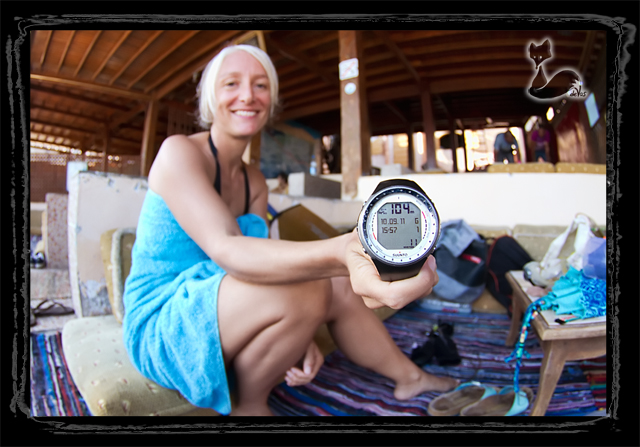 104 Meters is a long way to go (and back!) on a single breath…
During the weeks leading up to the 2011 World Freediving Championships, Freedive Dahab had the privilege of assisting four times world record holder Sara Campbell with her final training dives before the event in Kalamata (Greece). Over a period of roughly three weeks Sara did three dives outside the world famous Blue Hole in Dahab with myself and Linda Paganelli* where she managed to better her last depth during every session with an astounding ease.
The current world record at the time for woman in the Constant Weight (CWT) discipline was held by Natalia Molchanova at 101 meters (9/25/2009).
The following video (by jdvos.com) shows Sara during her last training dive on the 10th of September before leaving for Greece…truly one of the most incredible deep dives I have ever seen. Pay attention to how 'fresh' she surfaces after a dive to 104 meters which lasted just over 4 minutes!
The video also gives a clear description of what exactly happens during a dive like this and how safety divers work together to ensure the safety of a diver when descending to such great depths.
Be sure to watch it in full HD (option available at the bottom right hand of the player:)
During the video Sara talks about her time in Kalamata after what can only be described as a very unfortunate series of events (the worst now being one of the most watched Freediving blunders on Youtube):
Despite all these events and not setting a new record she managed to maintain a healthy perspective on what she had accomplished and she was clearly satisfied in achieving all her goals…a real inspiration for other freedivers.
*Linda Paganelli is an Italian National Record Holder for all three depth disciplines and co-owner of Freedive Dahab along with Lotta Ericson
Sara Campbell Video (104 meters) – Jacques de Vos
Kalamata Video – NicholasKouvaras