During November Swedish Annelie Pompe returned to the Red Sea (Egypt) and set out to reclaim the Freediving Variable Weight World Record which is currently being held by Natalia Molchanova (127 meters).
 The sled used by Annlie during her attempt.
I was fortunate enough to be approached by Emil Sergel of Sergelmedia to help with the filming of this project which is also being optioned to Red Bull as part of a 24 part series on amazing individuals (including the recent 'space jump' by Felix Baumgartner).
On a single breath with the Red Epic (over 75 000 USD worth of gear!) – Photo: Dan Burton
Once again my ability to use freediving while filming proved a valuable asset throughout filming as it provided some truly dynamic footage of Annelie during her dives and there was also an instance where we had an incredible encounter with a whale shark where it played a vital role in securing some awesome footage of the experience.
Filming Annelie and the team with the C300 on the way to Tiran Isalnd – Photo: Johan Tarland
It was truly an incredible experience and I got to work with some highly skilled individuals like renowned underwater cameraman Dan Burton as well as photographer Fred Buyle and learned a lot from them which has helped shaped my plans for the future. Apart from the 'working days' – diving with a whale shark, sailing on a massive yacht to Jackson Reef and then standing on Tiran Island at Sunset were just some of the highlights.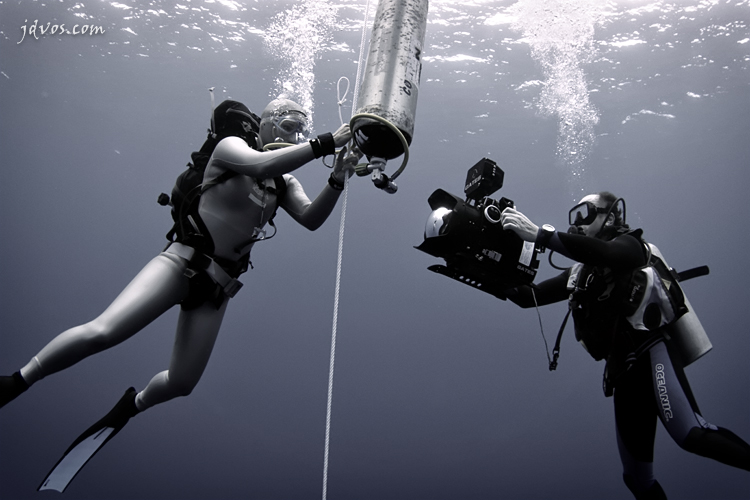 Dan Burton Filming Annelie Pompe after a deep training dive.
There was some great (and very expensive) video equipment to check out in most part due to the high quality of footage required by today's broadcasting standards. Dan Burton was shooting with the fantastic Red Epic camera housed in a Gates housing (one of two such setups in the UK) while Emil and Johan Tarland were filming most of the surface footage with a Canon C300, also an impressive camera. Apart from these and my own 7D, there were also several GoPros being used in various setups to catch all the action, some of which had to go down to depths in excess of 125 meters. This was achieved using UK-GERMANY housings which due to design flaws proved to be very problematic and by the end of the two weeks we has flooded 3.
 Some of my own modest equipment used during filming.
Annelie Pompe is an incredible individual and athelete (and photographer!) who has not only held a world record in Freediving but is also the first Swedish woman to ascend the north face of Mount Everest as part of her 'Deep Everest' project. During the 2 weeks in Sharks Bay, Sharm El Sheikh the team encountered several challenges in realizing the record which Annelie discusses in her blog. Ultimately it was decided to postpone the attempt until early next year which will surely bring her and her team even more success and I look forward to joining them then in filming the conclusion to this great adventure!
Annlie Pompe asceding from a training dive in Sharm El Sheikh
Follow Annelie on her webpage as she prepares for her next adventure of climbing Kilimanjaro before returning to the deep early next year…